Studio Location
(by appointment)
11281 Magdalena Road, Los Altos Hills, CA 94024 650-208-1178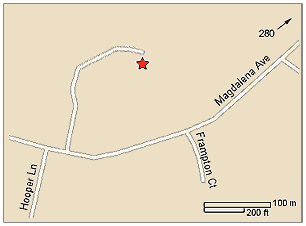 Click for large map
Directions
We're ½ mile west of the I-280 Magdalena Ave exit.
From 280, exit - Magdalena Ave.

280 N: turn left onto Magdalena.
280 S: curve left then right onto Magdalena.

Drive ½ mile
Driveway is roughly opposite Hooper Lane (see map above), marked by a double-mailbox with two numbers:

11271
11281

Drive up driveway to the teal colored gate

Before 6PM-ish the gate will open if you pull close to it. After 6PM, on the entry post:

Press

A

button once
Press

Z

repeatedly until you see

KEN GREER

Press

Call

We'll answer and buzz open the gate for you.

Drive up driveway, passing both houses on the left, and veer right into our circular driveway. The ballroom will be in front of you marked by two glass doors. Park to the left of the studio please.